GIGABYTE B550 VISION D takes the lead to pass the Thunderbolt™ 3 certification
Premium design and materials promise superior transfer speed and performance on AMD platform for creators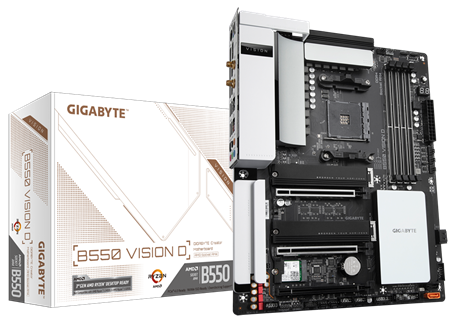 Taipei, Taiwan, August 26, 2020 – GIGABYTE TECHNOLOGY Co. Ltd, a leading manufacturer of motherboards, graphics cards, and hardware solutions, today announced the B550 VISION D which is exclusively designed with leading technology for content creators has become the first and the world-only Thunderbolt™ 3 technology-supported AMD B550 motherboard. B550 VISION D provides 40 Gb/s transfer speed for content creators and is compatible with both PC and MAC platforms which makes data storage unlimited from different platforms. Enhanced with comprehensive functions of lighting fast network, and data security, B550 VISION D is certified to be the vital choice for content creators and multimedia studios.
"In recent years, you can find that PC products exclusively designed for content creators are increasingly launched in the market, and expecting to take a share beyond the gaming market. We realized the key factor is to offer the precise function that creators need," said Jackson Hsu, Director of the GIGABYTE Product Development Division. "GIGABYTE has conducted on creator motherboards for several years, from the previous DESIGNARE series to the latest VISION D series product line, we phase in the Thunderbolt™ function which is very important to content creators. Inheriting the features of multicores, optimized performance, and ultimate transfer speed, B550 VISION D takes the lead to pass Intel® Thunderbolt™ 3 certifications which represents GIGABYTE's preceding technology and developments truly benefit the consumers."
In order to provide content creators with the most completed Thunderbolt™ 3 experience, GIGABYTE B550 VISION D motherboard integrates Titan Ridge Thunderbolt™3 IC from the beginning of product development which differs from the expansion solution of other competitors. Adopted with premium materials and exclusive design, B550 VISION D stands out and passes the strict Thunderbolt™3 verification to be the first Thunderbolt™ 3 certified motherboard among B550 creator series in the world.
B550 VISION D equips two sets of USB Type-C™ interfaces with 40Gb/s transfer speed, enabling users to enjoy the speedy access of their creation and data without worrying that the access of large files runs slower than the presenting. Being compatible with both PC and Mac platforms makes accessing data when sharing between external devices no more risks. Enhanced by Daisy chain technology, B550 VISION D can connect to various peripherals with one port to 6 devices, such as Thunderbolt™ 3 storage devices, displays,..etc, which create more flexibility and convenience without dealing with complex connecting lines. Graphics creators can also connect with drawing tablets to turn creativity into strokes, or even be shown on the big screen for more detailed discussion and prompt modification at proposals for more sophisticated and accomplished work.
Besides the strictly certified Thunderbolt™ 3 interfaces, GIGABYTE B550 VISION D adopts supreme hardware design and materials, including enhanced power design, optimized thermal solutions, dual Intel® gigabit Ethernet and Wi-Fi 6 wireless network which provides the high-speed data storage and network experience to creators. B550 VISION D supports ECC memory for instant error-checking and correcting. Moreover, paired with Quadro graphics card, B550 VISION D presents more stable and accurate quality which is true to original creativity with no more worries about the disparity between the outputs and original design. Creators who are eager for more precise, more competitive, more speedy data access should never miss the GIGABYTE B550 VISION D motherboard.
For more details, please visit the official GIGABYTE motherboard website: https://www.gigabyte.com/tw/Motherboard/B550-VISION-D-rev-10#kf
For more information and news on GIGABYTE products, please visit the official GIGABYTE website: https://www.gigabyte.com/